Um die richtigen Werte für Ansehen – Standing, bzw. Modifikator des abgeleiteten Standings, zu ermitteln, geht folgendermaßen vor:
Standing
Factions in der ersten Spalte haben ihr Standing zu anderen Factions auf den Wert gesetzt, der in der entsprechenden Spalte steht.
Wählt Ihr also die The Servant Sisters of EVE (SOE) Zeile, seht Ihr in der Amarr Empire Spalte, dass SOE dem Amarr Empire kein Standing gegeben hat.
Umgekehrt seht Ihr aber, dass in der Amarr Empire Zeile -1.00 in der Spalte der SOE steht. Amarr mag die Sisters also nicht.
In der rechten Spalte ist der sizeFactor jeder Faction angegeben.
Standing und sizeFactor ergeben das abgeleitete Standing, welches auch in der unteren Tabelle steht. Die Formel zum selbst berechnen ist:
Secondary Factions Standing zu Auftrag Faction x ( Auftrag Faction Size / Secondary Faction Size )
Auftrag Faction: Die Faction, für die Ihr die Storyline Mission abgebt.
Secondary Faction: Die Faction von der Ihr den Standingabzug ermitteln wollt.
Am Beispiel SOE/Amarr:
Ihr fliegt für SOE eine SL, sizeFactor 3
Amarr hat SOE auf -1.00 gesetzt, sizeFactor 5
-1 x (3/5) = -0.600 Abgeleitetes Standing Faktor
Umgekehrt:
Ihr fliegt für Amarr eine SL, sizeFactor 5
SOE hat kein Standing zu Amarr gesetzt, sizeFactor 3
0 x (5/3) = 0.000 Abgeleitetes Standing Faktor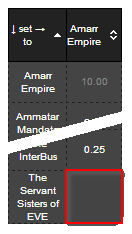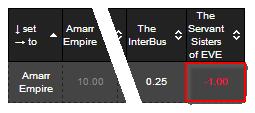 Derived – Abgeleitetes – Standing Faktor
Erledigt Ihr Storyline Missionen (SL) für Factions in der ersten Spalte, findet Ihr im Verlauf dieser Zeile den Modifikator für abgeleitetes Standing bei den jeweiligen Factions.
Fliegt Ihr also SL für SOE, seht Ihr, dass dies beim Amarr Empire eine negative Veränderung des Ansehens verursacht.
Umekehrt verliert Ihr jedoch kein Standing bei den SOE, wenn Ihr SL für das Amarr Empire fliegt.
Das erhaltene abgeleitete Standing errechnet sich dabei wie folgt:
Auftrag Faction Standing Änderung x ( Abgeleitetes Standing Faktor / 10)
Sobald Euer Standing bei den Secondary Faction höher/niedriger ist, als das der Issuer Faction, wird kein abgeleitetes Standing mehr berechnet.
So bekommt Ihr zum Beispiel bei 8.00 Standing bei der Gallente Federation dort keinen Zuwachs, und ebenso bei -1.00 Standing beim Amarr Empire keinen Abzug, wenn Ihr SoE Storyline Missionen abschließt